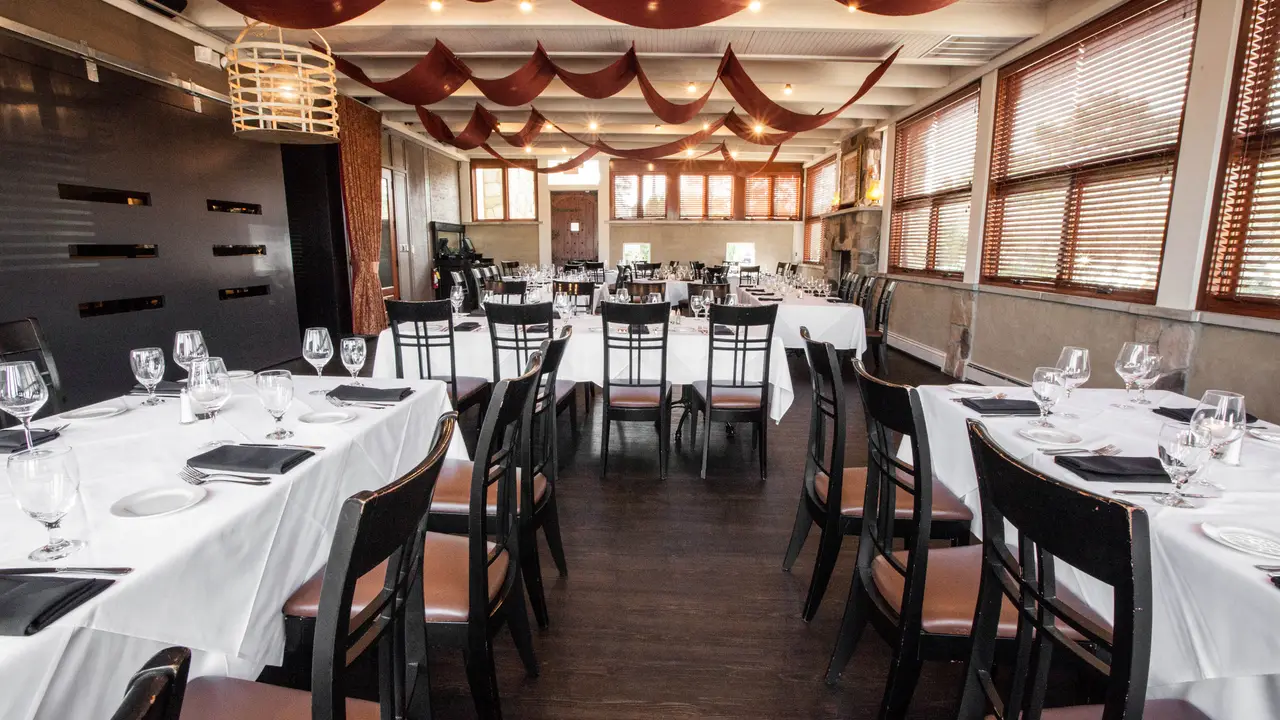 Make a booking
Order delivery or takeout
Additional information
Dining style

Casual Elegant

Hours of Operation

Lunch Mon–Fri 11:30 am–3:45 pm Dinner Mon–Thu 4:00 pm–10:00 pm Fri, Sat 4:00 pm–11:00 pm Sun 4:00 pm–9:00 pm

Phone number

(248) 865-9300

Payment Options

AMEX, Discover, Mastercard, Visa

Dress Code

Business Casual

Executive Chef

Chef Marc Casadei

Catering

Andiamo - West Banquet Facility accommodates parties up to 150 guests. Please call for details on our banquet facility and catering options for a minimum of 20 guests.

Private party facilities

Whether celebrating a special occasion with family and friends or hosting a corporate event, Andiamo Bloomfield can accommodate all your special event needs.

Private party contact

Tracey Walper: (248) 865-9300
Parking Details

Valet is complimentary. A private lot with ample parking is also available.

Entertainment

Live Entertainment Thursday - Saturday evenings 7:00pm-10:00pm.

Additional

Gluten-free Options, Indoor Fireplace, Patio/Outdoor Dining, Vegan
What 1,838 people are saying
Overall ratings and reviews
Reviews can only be made by diners who have eaten at this restaurant
4.7 based on recent ratings
4.6

Food

4.7

Service

4.6

Ambience

4.3

Value
overall

5

food

5

service

5

ambience

5




Andiamo BloomfieldResponded today




overall

4

food

4

service

5

ambience

5




Andiamo BloomfieldResponded today




overall

3

food

4

service

2

ambience

5




Andiamo BloomfieldResponded today




overall

3

food

5

service

2

ambience

3




Andiamo BloomfieldResponded today




overall

5

food

5

service

5

ambience

5




Andiamo BloomfieldResponded today




overall

5

food

5

service

5

ambience

5




Andiamo BloomfieldResponded 3 days ago




overall

5

food

5

service

5

ambience

4




Andiamo BloomfieldResponded 3 days ago




p

patricks

San Francisco

vip

Dined on 26 November 2023

overall

5

food

5

service

5

ambience

5




Andiamo BloomfieldResponded 7 days ago




Dined on 19 November 2023

overall

5

food

5

service

5

ambience

3




Andiamo BloomfieldResponded on 20 November 2023




Dined on 17 November 2023

overall

5

food

5

service

4

ambience

5




Dined on 11 November 2023

overall

5

food

5

service

5

ambience

5




Andiamo BloomfieldResponded on 13 November 2023




overall

5

food

5

service

5

ambience

5




Andiamo BloomfieldResponded on 7 November 2023




overall

5

food

5

service

5

ambience

4




Andiamo BloomfieldResponded on 30 October 2023




overall

5

food

5

service

5

ambience

5




Andiamo BloomfieldResponded on 25 October 2023




overall

2

food

2

service

2

ambience

4




Andiamo BloomfieldResponded on 1 November 2023




OT

OpenTable Diner

Detroit

vip

overall

5

food

5

service

5

ambience

5




Andiamo BloomfieldResponded on 23 October 2023




overall

5

food

5

service

5

ambience

5




Andiamo BloomfieldResponded on 23 October 2023




overall

5

food

5

service

5

ambience

5




Andiamo BloomfieldResponded on 23 October 2023




overall

4

food

4

service

5

ambience

5




Andiamo BloomfieldResponded on 16 October 2023




overall

5

food

5

service

5

ambience

5




Andiamo BloomfieldResponded on 9 October 2023




OT

OpenTable Diner

Chicago

vip

overall

5

food

5

service

5

ambience

5




Andiamo BloomfieldResponded on 9 October 2023




overall

1

food

1

service

1

ambience

1




Andiamo BloomfieldResponded on 5 October 2023




Dined on 27 September 2023

overall

5

food

5

service

5

ambience

5




Andiamo BloomfieldResponded on 28 September 2023




Dined on 23 September 2023

overall

5

food

5

service

5

ambience

5




Andiamo BloomfieldResponded on 26 September 2023




Dined on 20 September 2023

overall

5

food

5

service

5

ambience

5




Andiamo BloomfieldResponded on 26 September 2023




Dined on 19 September 2023

overall

5

food

5

service

5

ambience

5




Andiamo BloomfieldResponded on 26 September 2023




Dined on 13 September 2023

overall

5

food

5

service

5

ambience

5




Dined on 8 September 2023

overall

5

food

5

service

5

ambience

5




Andiamo BloomfieldResponded on 11 September 2023




Dined on 5 September 2023

overall

2

food

1

service

2

ambience

5




Dined on 2 September 2023

overall

4

food

4

service

3

ambience

4




Andiamo BloomfieldResponded on 5 September 2023




Dined on 2 September 2023

overall

3

food

5

service

3

ambience

1




Andiamo BloomfieldResponded on 5 September 2023




overall

5

food

5

service

5

ambience

5




Andiamo BloomfieldResponded on 30 August 2023




overall

5

food

5

service

5

ambience

5




Andiamo BloomfieldResponded on 28 August 2023




overall

5

food

5

service

5

ambience

5




Andiamo BloomfieldResponded on 28 August 2023




overall

4

food

4

service

4

ambience

4




Andiamo BloomfieldResponded on 21 August 2023




OT

OpenTable Diner

Detroit

vip

overall

4

food

4

service

4

ambience

4




Andiamo BloomfieldResponded on 14 August 2023




overall

5

food

5

service

5

ambience

5




Andiamo BloomfieldResponded on 14 August 2023




M

Michigander

Greater Boston

vip

overall

5

food

5

service

5

ambience

5




Andiamo BloomfieldResponded on 14 August 2023




overall

3

food

2

service

3

ambience

4




Andiamo BloomfieldResponded on 14 August 2023




overall

5

food

5

service

5

ambience

3




Andiamo BloomfieldResponded on 7 August 2023



FAQs
Andiamo Bloomfield does offer delivery in partnership with Uber Eats. Andiamo Bloomfield also offers takeout which you can order by calling the restaurant at (248) 865-9300.
Andiamo Bloomfield is rated 4.7 stars by 1838 OpenTable diners.
Yes, you can generally book this restaurant by choosing the date, time and party size on OpenTable.
Make a booking
Order delivery or takeout
Additional information
Hours of Operation

Lunch Mon–Fri 11:30 am–3:45 pm Dinner Mon–Thu 4:00 pm–10:00 pm Fri, Sat 4:00 pm–11:00 pm Sun 4:00 pm–9:00 pm

Dining style

Casual Elegant

Dress Code

Business Casual

Parking Details

Valet is complimentary. A private lot with ample parking is also available.

Payment Options

AMEX, Discover, Mastercard, Visa

Executive Chef

Chef Marc Casadei

Entertainment

Live Entertainment Thursday - Saturday evenings 7:00pm-10:00pm.

Additional

Gluten-free Options, Indoor Fireplace, Patio/Outdoor Dining, Vegan
Phone number

(248) 865-9300

Catering

Andiamo - West Banquet Facility accommodates parties up to 150 guests. Please call for details on our banquet facility and catering options for a minimum of 20 guests.

Private party facilities

Whether celebrating a special occasion with family and friends or hosting a corporate event, Andiamo Bloomfield can accommodate all your special event needs.

Private party contact

Tracey Walper: (248) 865-9300